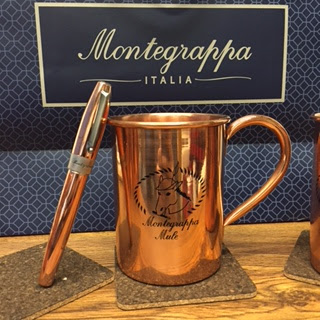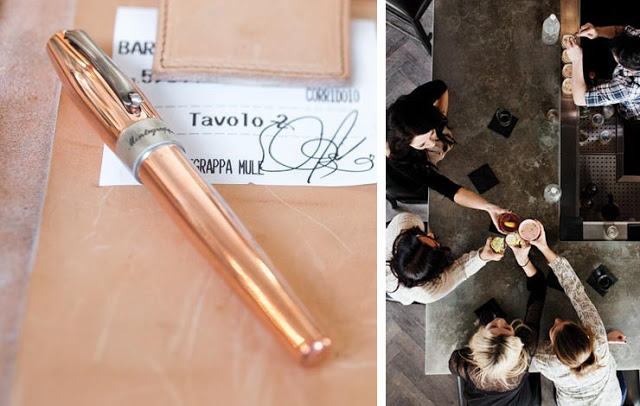 Within a stone's throw of the
Montegrappa works – home of the oldest pen manufacture in Italy – is the heart
of another industry. Grappa is the local tipple, and it has never been more
popular, finding new friends in bars and saloons from Mumbai to Manhattan to
Macau. Following the success of the spectacular limited edition Grappa pen in
hammered copper, Montegrappa again honours the locals' favourite beverage with
a pen inspired by both the drink and the equipment that distils it.
Featuring a shape that is classic Montegrappa, curvaceous yet sleekly
contemporary, the Montegrappa Mule pen collection further displays its familial
links with a cap top bearing the famous "1912" logo, while the nib is
embellished with a filigree Montegrappa pattern. The cap and barrel are crafted
in mirror-polished copper, further defined by a brushed silver-plated trim. The
effect recalls the well-used, vintage piping and tubing employed in the process
of producing grappa. Over the time, each Montegrappa Mule will acquire its own
unique patina through handling by its fond owner, truly personalising the
writing instrument. Easily recyclable, copper is a noble and hygienic metal
that slows down the growth of germs. It is widely used in refined gastronomy
and health equipment, as well as in architectural design and various artistic
forms.
Available in three versions, the Montegrappa Mule will suit the user of
fountain, roller or ballpoint pens. Further individualising the Mule is the
choice of writing grades to suit the owners of the fountain pen, with nibs in
Fine, Medium and Broad, and carry its ink supply with either a cartridge or
converter.
Merely honouring the grappa tradition would be enough to explain the design of
the Montegrappa Mule, but Montegrappa's creativity has been imbued with the
spirit of the … spirit! Initially inspired by the classic Moscow Mule cocktail,
traditionally served in a copper mug, Montegrappa has registered an exciting
new grappa-based cocktail. Created by famous Bassano-based mixologists,
brothers Edoardo and Leone Miotti, the recipe is specially developed and
already featured on the cocktail menu of Bar Danieli. The Montegrappa Mule will
be sipped with relish during the promotion of the pen at various
sipping'n'sampling bar and in-store events. The drink itself is made of 40°
premium-quality grappa, bergamot scents and a habanero-chilli pepper twist.
Securing the link between pen and drink will be a copper mug given to each
purchaser of the first 500 Montegrappa Mule pens, the mug personalised with a
special Montegrappa Mule logo. And to fill the mug? Each pen purchase will also
include the special recipe. Grappa, regrettably, will not be included.
Pricing is $395 for the ballpoint, $455 for the rollerball, and $525 for the fountain pen .Find this stunning Montegrappa piece exclusively at CHARALS in Vancouver. For more information or to reserve, call 1.800.811.7333 or email info@charals.com.